Yummy Healthy Food Roundup & Giveaways
You're going to love this post as I'm featuring four items you'll want in your kitchen!
 Toddler Fruit & Veggie Crispy Chews and Fruity Yogurt Bites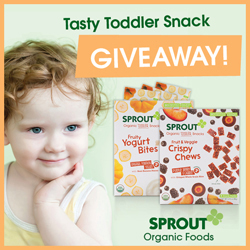 Crispy Chews in Purple Berry & Carrot, Tropical Fruit & Pumpkin, Orange Fruit & Carrot, Red Berry & Beet. They are soft, chewy, and crispy. Are you wondering how? Try them – you'll like 'em!
Yogurt Bites in yummy flavors as Raspberry with Mango, Strawberry Carrot with Banana, Banana Pumpkin, Orange Carrot with Mango.
Both are perfect little size for tiny fingers…but even my fat fingers work. They are yum and I kept grabbing more!
~~~~~~
Bhakti Chai ~ microbrewed in Boulder, CO
Fresh-Pressed Ginger • Fiery Spices • Fair Trade Certified Black Tea
Gluten Free • Vegan • No Preservatives • Non-GMO Project Verified
You'll find Bhakti Chai in the refrigerated section of your grocery or health food store (in many areas). I couldn't find it in mine so I'm anxiously awaiting my samples by mail. Sounds sooooo yummy!
Buy it buy the gallon or quart in flavors of Original, Decaf, Unsweetened, & Coffee Blend (coffee! I had a coffee flavored chai recently and it was de-lish!). They also have ready to drink iced bottles. Perfect for a summer treat!
Be sure to check out all the Recipes you can make from Bhakti Chai and you can freeze it for frozen pops! yum!
~~~~~~~
Can cooler in Raya teal blue style. Comes in multi-sizes and colors for more options.
How fun is this beachy tote? Insulated to keep food and drinks cold. Take on a picnic or to the beach!
Or just keep in your car on those hot days when you need something cool.
Great size and padded handles to carry. You'll look stylish!
 ~~~~~~
No refined sugar, hydrogenated oils, artificial colors, flavors or preservatives.
We've been fans of the Peanut Butter Puffins for awhile now. Hubby loves to mix the different flavors in one bowl to eat all at once! Barbara's has been around since 1941 and has grown to include fig bars, cookies, and cheese puffs. Check them all out!
Check out the new instant-win contest called Discover Puffins for an opportunity to win one of 10,000 prizes instantly, including puffin beanie toys, DVDs, kids' pajamas and other merchandise, an adopted puffin through Project Puffin, Barbara's canvas tote bags, coupons for Barbara's products and more.
Everyone who enters is also automatically entered to win a grand prize custom four-day, three-night vacation to Maine valued at $5,000!
~~~~~~
Are you hungry now? 🙂
WIN IT!
Sprout Foods ~ 8 pouch snacks
Bhakti Chai ~ 4 free coupons
Thermos ~ 6-can tote
Barbara's ~ 3 cereals & stuffed Puffin
I received all these items for review free of charge and all opinions are my own. This giveaway will end on June 14, 2013 at midnight EST. Winners will be drawn via rafflecopter. Once a winner is drawn I will contact them and they will have 48 hours to reply before I draw a new winner. Giveaway is open to anyone in US and you must be 18 years of age or older. Giveaway not affiliated with Facebook & I release them of liability. Winner will be posted in the rafflecopter widget.