Being Green & Saving Money with White Cloud + Sweepstakes
This is a Sponsored post written by me on behalf of White Cloud for SocialSpark. All opinions are 100% mine.
As you know from reading me over the years, our house is almost all cloth. Diapers, wipes, napkins, paper towels, etc. I make sure all printer/schoolwork paper is used on both sides before I'll toss it in the recycle. With the use of my laptop and cell phone, I try not to use paper at all! Of course that is impossible, but my carbon footprint is not much in the paper field.
I've even gone partly cloth in my toilet paper. I can't see our family going all cloth in this area, so I do hit that aisle at Walmart. That is the place I always buy it and guess what? Their brand White Cloud is now available green! It's called GreenEarth and is made with 100% recycled fibers. I love buying and supporting products like this!
I was actually at Walmart today and guess what I picked up? The price combined with being eco-friendly made my day. What is funny is that I didn't know I was going to be writing this post until after I got home! See, I really DO buy the products I chat about! Plus, I want to point out to you that Being Green really does save money in soooo many areas!
Check out the White Cloud GreenEarth products page!
Right now there is a Pin it to Win it "Living the Green Sweepstakes" going on. 5 Winners will receive a Green Living Gift Basket containing White Cloud GreenEarth Paper Towels, White Cloud GreenEarth Bath Tissue and cleaning supplies, with a value of $200. NO PURCHASE NECESSARY. Ends 4/30/13. Click here for Official Rules.
To enter you must…
1. Follow the White Cloud Pinterest page
2. Create your own "Living the Green" Pinterest board
3. Repin at least one Pin from the White Cloud "Living the Green" Pinterest board to your board and include the hashtag #LivingTheGreen in the pin's caption
4. Visit mywhitecloud.com/promotions and complete the sweepstakes entry form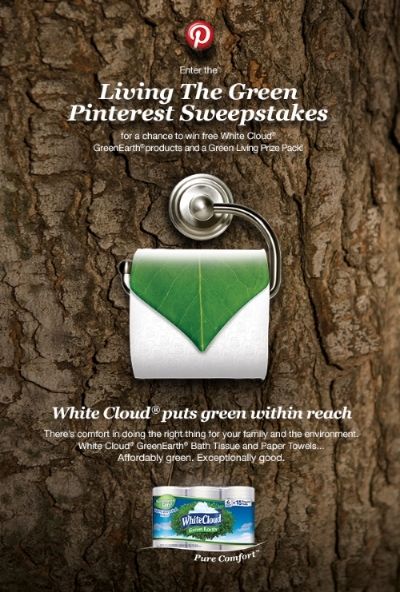 Sweepstakes Rules and Regulations
Good luck!
What paper products have you gone Green with?